On this page, you will find archived posts that were originally published on our homepage.
Happy Reading!
Store owner, Jamie, poses with an amazing Aquaman cosplayer! Find him on Instagram: @kyronart
Matt Cossin talks to some fans at his table. Find Matt and his brother, Mikey, on Instagram: @matt.cossin & @inthelifeofmikey
Free Comic Book Day 2022!
Caitlin (Media & Events Manager)
FCBD was on Saturday, May 7th this year, and like always, we hosted our famous Makers Market outside the shop to celebrate this national event with the community.
Each year for FCBD (the first Saturday of May), we invite local comic creators, artists, and writers to set up outside our storefront, allowing them to get their work into new hands.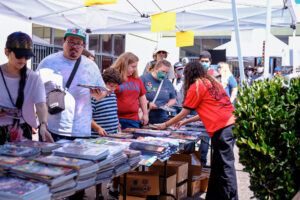 Check out this article from Bleeding Cool about our FCBD 2022 event!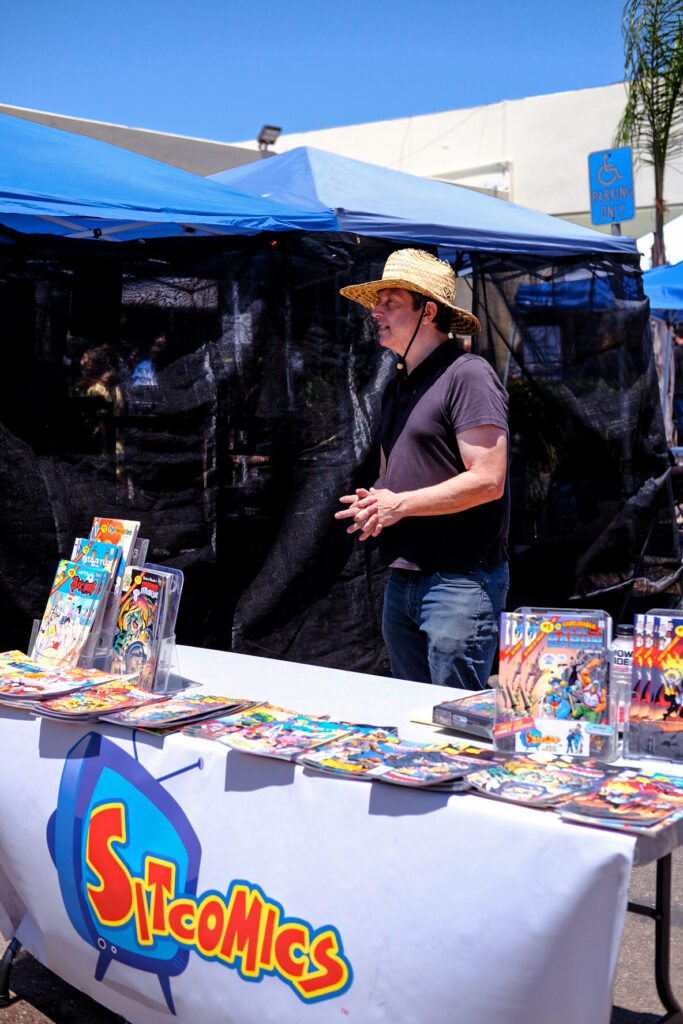 Darin Henry holding down the fort for Sitcomics! Find them on Instagram: @sitcomics_binge_books
A customer looking through the hundreds of trades we discounted for our $5 Graphic Novel Sale!
Action Comics #1
Jamie Newbold (Store Owner)
This blog entry is a contribution by local collector and friend Peter Jones. Some of you may know Peter from encounters at Comic Conventions or AACC meetings of old. Peter's tale is probably one of the best we will feature due to the book the story is about–ACTION COMICS #1! I'll let Peter take it from here…

It goes without saying, but I'll say it anyway, that Action Comics #1 is a "Holy Grail" for many comic collectors and the ever-increasing prices on that book keep it out of the hands of most. In the past I've attempted to take a cheaper route and collect poor man's copies of some of the big keys. I call books that are assembled from parts of more than one copy "Frankenstein" books. They are also known as "married" copies which make them sound ever so…..genteel. Sometimes I fill in the missing parts of an incomplete copy with color Xeroxes to make a readable book; these I call "cyborg" books.

My overall success rate in this kind of endeavor has been extremely low and I've essentially abandoned such projects over the years, but I've had some requests to share the following story. My memory of some of the details is a little vague, but it goes something like this: I put out feelers for a low-grade incomplete copy of Action #1. I reckoned that in the best case I could assemble a complete copy and in the worst case I might only end up with a coverless and incomplete Action #1, at least with the Superman story intact, which would still be pretty cool. To me, having the world's worst copy of Action #1 was still preferable to having no Action #1. A few separate Action #1 wraps sold for decent money on ComicLink recently, so I guess there are other collectors who feel the same way. This was pre-eBay, so that meant putting occasional ads in CBG and calling dealers and other collectors. It's difficult to find parts, and empty covers are scarcer than coverless copies. I also wasn't surprised to find that a seller's radar goes up when I ask for an incomplete book or just a centerfold or a cover. They rightly surmise that I'm trying to complete a comic and they adjust the price upward, if they even have a part that I need. Comic collectors can be a suspicious and cantankerous lot sometimes, and the other Dr. Frankenstein's out there zealously guarded their scraps of key books. Typical conversations inevitably veered towards what they might get from me rather than what I could pry out of them. It really didn't go very well. Somehow I heard of an antiques auction, not even a comic book auction, somewhere on the East coast, where an Action #1 missing the cover, first wrap, and centerfold was offered. I called the auction house and they said it had already been sold but I managed to track down the buyer and ask if he was interested in selling it. He wasn't, but he wished me luck. I heard that a lot. Eventually, one of my ads in CBG got me a phone call from someone who had a copy that was missing one page but was otherwise solid and fairly attractive. The inside cover of Action #1 offered a contest where kids were encouraged to carefully color the first page of Chuck Dawson (a b/w strip), tear it out and mail it to National Comics. The best colorists would get some sort of prize. It made me wonder if there are more than a few copies out there that are missing that page. Anyway, this copy was not inexpensive but it was heavily discounted. I agonized and passed on it, but on further reflection, (and some manipulation of my financial resources), I called the seller back and went for it. Any regrets I had evaporated when I held the book in my hands. I couldn't believe I truly owned an Action #1, even with a page missing.

I had moved into the eBay age by now, searching for an incomplete copy with the page I lacked. Finally, a hideously thrashed one surfaced. It was missing the cover, at least one outer wrap, and the centerfold, pretty much the most crucial parts that any other bottom-feeder like me would want, but it had my needed page. There were indeed a lot of other bottom-feeders out there and the competition was fiercer than I expected. I was very determined though, and I won it. It turned out the page I wanted was in decent shape, too. With a little reluctance I took a razor and cut it out. The spine was already split about half-way down, so the extraction didn't take much effort, although I offered a silent prayer for forgiveness from the comic book gods for desecrating even such a wretched Action #1 corpse as this one. I laid the page inside my first copy and beheld a complete Action #1. A Frankenstein book, yes, but un-restored, and likely the only one I'll ever own. I barely refrained from shouting maniacally "It's alive! It's alive!" In case anyone wonders what I did with the rest of the second incomplete copy, I used my Famous First Edition reprint of Action #1 to make color Xeroxes of all the missing parts and assemble a readable cyborg book, which I sold to another collector (with full disclosure, he knew what he was getting). That almost entirely paid for the cost of obtaining the page.
Astonishing #9 Cover Art
Jamie Newbold (Store Owner)
Jamie has collected original comic book art since the 70s. The luxury of living in San Diego during the early San Diego Comic Con years provided ample collecting opportunity. One of his most pronounced art pieces is a pre-code horror cover from 1952. Purchased at the SD Con in the late 70s, Jamie has retained it in his collection to the present day. He paid $35.00 for the cover! Now, comic art in the 70s was not held in the same regard as the art market holds art in the new millenium. Jamie collected Atlas horror comics in the 70s-80s and saw the Astonishing cover as a cool supplement to his comics. $35 was a fair price for something collectors seemed less interested in back then.
The art was stored or displayed in Jamie's apartment at various times. Unfortunately, and this is where the story gets interesting, the art was targeted by a pet bird and suffered chew damage before Jamie discovered it. He rescued the page from further damage, but he almost tossed it because it appeared worthless, certainly less valuble than the $35 investment. But he kept it. Instead, he stored it in an old suitcase along with other memorabilia for years.
Jamie and Gino opened their store in the late 90s. Some of the start-up money came from their own collections going up for sale. Jamie dug around his storage containers and found the long-forgotten Astonishing #9 cover art. Opting not to sell it he kept it around intending to do something with it eventually. Skip forward to the year 2002, Jamie drove up to art dealer Tom Horvitz's home to discuss an art deal. While there, he and his two accompanying friends got a chance to see much of Tom's art. Pretty impressive! Included in his selections was some Russ heath stuff. Jaime had always been a fan of Russ's art. Tom said he represented Heath as an art agent. He even offered to let them meet him! He made a phone call to Russ and Russ was at Tom's apartment in less than 15 minutes! COOL! They were hanging out with Russ Heath! But it gets better! After some conversation and and a display of Heath art for sale he recalled he already owned some Heath art. He told Russ and Tom about the damaged Astonishing cover. Heath said he could probably redraw the missing corner the bird chewed off. Jaime made a call to home to his wife and she e-mailed a quick photo of the cover to Tom's computer. He and Russ looked it over and made a quick business decision. For $300 Russ would draw a replacement corner. Then, Tom would ship the art and Russ's drawing to the midwest to Roger Hill. Roger set a price to affix the replacement corner to the original cover. He also set a cost for creating and mounting all the missing stats. Referring to the 2 photos above you can see the older, darker cover paper. Notice the newer, whiter cover paper at the bottom, right corner? That's the new art that Russ drew to fix the cover. Compare it to the xerox of the original, undamaged art in the bottom photo and you can see how accurate Russ was–50 years later! Now, for those of you still paying attention you may have realized that the same artist had now worked on the same page of art twice–50 years apart! How cool is that!? The art took about 1 year to return from Roger. To paraphrase the title of the cover, Jaime was "astonished" to see the finished product. Below is a xerox of the cover as it existed before the corner damage
Jaime still has the cover. It has to be one of the coolest pages around.