1998…
               The store's genesis was an extension of our San Diego Comic-Con retailing history. Many people were attached to the store, and our success at Con encouraged us to go full-time as a back-issue retail location. We choose the warehouse location for the enormous square footage and the low rental price. What started as a risk became a success. we have become adept at acquiring comic book collections large and small, attracting buyers from all over the world. We've gone far afield to sniff out extraordinary collections. So far, the furthest we've gone is Denmark and England. Plan a trip to the store! Be one of the many who have enjoyed the exotic nature of our fascinating shop!
Store Owner: Jamie Newbold
A die-hard Captain America fan. Read more about Jamie's life in comics in his book The Forensic Comicologist.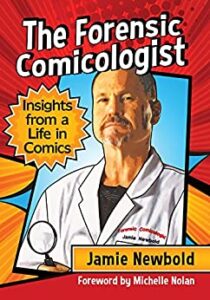 A childhood comic book fan turned comic book retailer, the author soon discovered the prevalence of scams in the world of comics collecting. This book is his tutorial on how to collect wisely and reduce risks. Drawing on skills learned from twenty years with the San Diego Police Department and as a Comic-Con attendee since 1972, he covers in detail the history and culture of collecting comic books and describes the pitfalls, including common deceptions of grading and pricing, as well as theft, and mail and insurance fraud.
Store Manager: Matt
Having been hired in 2003, Matt is one of our most tenured employees. For all questions and inquiries, Matt splits duty with Jamie to provide all the answers. Matt not only runs the store, but he handles all the new comics distribution duties as well.
Office Manager: Becky
Becky runs the day-to-day bookkeeping and controls the daily operation of the store's front office. If your phone call to the shop is answered by an upbeat female voice, you're probably talking to Becky.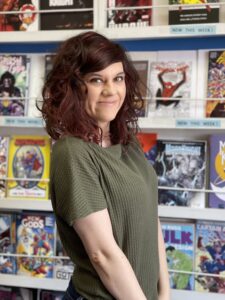 Media & Events Manager: Caitlin
Caitlin is in control of all our social media accounts and helps with planning every event the shop participates in. She is the creator of the store's current logo, if you see changes in the stores layout between visits it is because Caitlin has been hard at work redesigning the floor plan for visual and practical efficiency.
Soul of the Store: Kristin
Kristin is the second most tenured employee, having hired on in 2000. She knows where all the skeletons are buried, She is the keeper of the store's history. Long time customers are familiar with Kristin and everybody is charmed by her nature.
The Facilitator: Shawn
Shawn handles the weekly new product deliveries.